From bruise to scratch: the danger of light summer injuries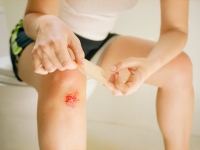 More than 30% of summer injuries that people turn to in emergency facilities are minor injuries. But how many cuts, scratches, bruises remain that the doctors do not "take into account" because of the non-treatment of the injured for medical help. In fact, "harmless" bruises or bruises can in a few years result in serious diseases of the joints or other internal organs. Therefore, it is better to avoid injuries, but if you did not manage to guard yourself, you should be able to render first aid correctly.
What are dangerous superficial injuries?
Under the abrasion or scratch can hide more serious damage to internal structures. It is also important to treat even the most trivial scratch, because an infection can get into the wound, and as a result a serious illness can "grow" out of a small scratch. Superficial injury in medicine is considered damage without compromising the integrity of the skin. A bruise or hematoma is the result of blood accumulated in the subcutaneous tissue and depends on the strength of the impact to what extent the damage is serious.
It is sometimes difficult to assess the severity of the injury if it is visually a small bruise or there is no hematoma at all. So – a couple of scratches. However, it is possible to bruise not only the skin, but also the heart, lungs – and this is a discharge of serious injuries that require medical assistance. Falling from a bicycle or rollers, or diligently playing volleyball on the beach, you can break the bundles. Traumatologists note that the sprain is in fact no stretch at all: the ligaments or tendons do not stretch during injury, but are torn completely or partially. Heals such a trauma without treatment for a long time. And in serious cases, an operation may be necessary. Therefore, when "stretching", even a small one, it is important to fix the joint correctly, which cannot be done without a specialist.
How to assess the severity of injury "by eye" and where to go
Most often, we injure our hands and feet. If after a fall 10 minutes have passed, and the arm or leg not only hurts, but also "does not obey", the mobility of the fingers is broken, it hurts when bent, etc., you should immediately contact the emergency room. Find out in advance the addresses of the emergency room in the city: it happens that far from all of them fall in their districts and do not know where to turn when injured. They also call for medical aid for head injuries, as they can cause concussion, as well as damage to the chest, spine, pelvis and abdomen.
The emergency room will provide first aid, if the injury is not too serious – then you will be allowed to go home and recommend to contact your local trauma specialist. In the diagnosis of serious injuries, the victim is hospitalized, when fractures and other injuries that do not require hospitalization are detected, they will put in a plaster, splint or fixation bandages and let him go home.
Remember about prevention and know how to give first aid.
After injury, the cold will help to relieve pain and swelling: you only need to apply ice or a heating pad with cold water / ice not on your naked body, but on your clothes or a towel! The first few days the injury cannot be heated, and the damaged ligaments cannot be loaded. For this you need a fixing bandage or a special soft orthosis fixative, which fixes the damaged joint. When edema is necessary to keep an arm or leg at a height: the hand is fixed with a scarf or a special bandage, the leg is placed on the pillows.
An abrasion or a small cut should be treated with an antiseptic (it is advisable to wash the wound with water and soap), then it is advisable to apply a dry bandage or a bactericidal patch so as not to irritate the injury site by accidentally touching it. Riding on rollers, bicycles, etc. Do not forget about helmets, knee pads and other personal protection. When taking a picnic, take a first aid kit with you, be careful when working with an ax, a knife, etc.